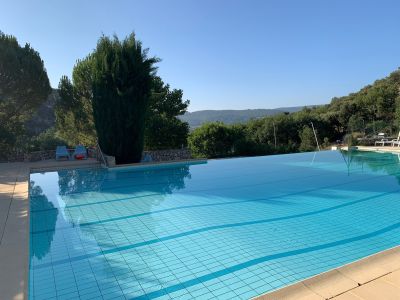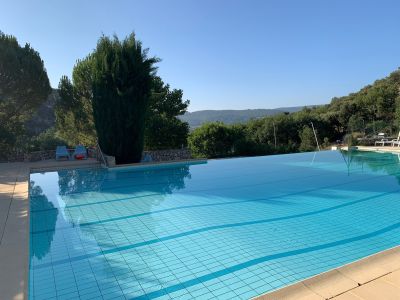 Welcome to Le Vallon des Oiseaux, a hidden paradise in the Provence.
Enjoy naturism in peace and freedom at our beautiful campsite.
Hospitality
Le Vallon is a French-Dutch camp site where hospitality is key. The atmosphere is informal and personal. At Le Vallon you can relax and be yourself. We do everything to make sure you have a wonderful holiday.
300 days sunshine
Le Vallon is situated at 350 metres altitude, in the middle of nature, at the base of a medieval village. The lovely southern French climate ensures long sunny days and nice cool nights.
Natural luxury
Be surprised by the spacious pitches with natural luxury. Le Vallon is car-free with pitches in the sun, in the pine forest, against the mountain or in the valley. You are welcome with tent, caravan, motor home or folding trailer. We rent out Mobil Homes and wooden chalets. All rentals have both sun and shade. Rentals are always from Saturday to Saturday.
Swimming pool with panoramic view
Relax in the beautiful, large swimming pool with views over the valley and the mountains. Every day there is fresh bread and vegetables from our own vegetable garden. Have a drink in the bar, eat on the terrace under the grapevines.
Cycling, hiking, running
Le Vallon is a campsite for people who enjoy peace, space and exercise. The camp site is situated along a national cycle route, an ideal base for discovering Haute-Provence. Almost every day there is a pleasant Provencal market in the area. We regularly organise walking tours.
Handicapped
A toilet and shower for the handicapped are available. Please let us know in advance if you would like to use it. We can then take your disability into account when arranging the camping pitches.
Welcome
Your hostess is Amanda Pasma.
Please note
The reception is open from 8am to 1 pm and from 4pm to 7 pm. From 1pm to 4pm the reception is closed for siesta time. If you arrive during these hours, please park your car, take a dip in the pool or stroll around the campsite. Expecting to arrive after 7 pm? Please contact us by phone.
Op this moment
Currently, we are closed. From April 27, 2024, we are happy to welcome again. You can reach us via the email below or the (clickable) phone numbers. Do you respect our siesta from 13.00 to 16.00 hours?
Want to camp with a tent, caravan, motorhome or trailer tent?
Renting a chalet or mobile home?
What are the prices, discounts and opening times?
Is a simple map available?
Do you have a swimming pool?
What are the facilities at the campsite?
What are the options for food and drink?
What activities do you organise?
Which villages and towns are nice to visit?
Do you have ready-made walking, cycling and running routes?
Are there any special tips regarding nature?
Can you do naturist walking on the campsite?
Are there reviews available?
What is the address?
Can we get more information by post?
Tell us a bit more about yourselves……..